Fireworks are in very high demand year-round in the United States. Everything from sporting events, amusement parks, and national holidays use them. However, due to their volatile nature, shipping fireworks can become extremely challenging. It's critical that you partner with a trusted carrier to move this volatile commodity from point A to point B.
The U.S. Department of Transportation (DOT) regulates the safe transportation of fireworks at a federal and state level. The ATF (U.S. Alcohol, Tobacco and Firearms) is responsible for the legal use and handling of fireworks. These agencies require hazmat carriers transport fireworks due to the hazardous explosive materials.
Having a solid understanding and a reliable truckload carrier is critical for the success of anyone shipping fireworks. This guide will provide you with explosive potential when shipping fireworks in the U.S.
Transporting Fireworks in the United States
Fireworks are considered hazardous explosive materials, meaning not just anyone will ship them. Transporting hazardous materials such as fireworks takes careful planning and consideration. The DOT requires compliance when transporting fireworks in the United States.
The Pipeline and Hazardous Materials Safety Administration (PHMSA) is the ruling body under the DOT that governs hazmat transportation directly. Their measures ensure the safety of those shipping and anyone near the shipment as it takes place.
There are several options for transporting hazardous materials in the U.S.
What Hazmat Class are Fireworks Considered?
A firework is any device used to create audio or visual effects through combustion or detonation. The ATF and the DOT have classified fireworks as 1.4G and 1.3G.
Knowing the hazmat class of fireworks is important when considering freight transportation. Typically, most fireworks belong to the 1.4G class, associated with "consumer use." The 1.4G fireworks class is generally seen at family 4th of July functions or small gatherings.
The other type, 1.3G, is associated with "commercial use," known as display fireworks. The 1.3G firework class is typically seen at large gatherings like sporting events or amusement parks.
ATF Categories for Explosives
The ATF has specific categories for which it outlines the various forms of explosives. These three categories cover the explosives recognized by the ATF.
Blasting Agents: Any material or mixture intended for blasting but not otherwise defined as an explosive.

Example: Certain water gels or Ammonium nitrate-fuel oil.

Low Explosives: Characterized by a low reaction rate and the development of low pressure intended for consumer fireworks.

Example: Black powder, smokeless powder, safety fuse, and flash powder

High Explosives: Characterized by a high rate of reaction and the development of high pressure intended for display fireworks.

Example: Blasting cap detonation, flash powder, and bulk salutes
Looking for a solution to move truckload freight? R+L Global Logistics handles truckload shipping. Let us know when and we'll handle the rest.
UN Number System
The DOT identifies fireworks using the United Nations (UN) number system. The numbers come in four-digit series, which place them in a specific identification set. These numbers are assigned through the UN Committee of Experts on the Transport of Dangerous Goods. Additionally, there are differing classifications between consumer and display fireworks.
Consumer Fireworks:
The DOT classifies consumer fireworks as UN 0336 or UN 0337. These are explosives that present no significant blast hazard.
They cannot contain more than 50 mg of flash powder for ground devices.
They cannot contain more than 130 mg of flash powder for aerial devices.
Display Fireworks:
The DOT classifies display fireworks as UN 0333, UN 0334, or UN 0335. These are explosives that have a massive explosion hazard.
They include salutes containing more than 120 mg of flash powder.
They include aerials containing more than 40 mg of pyrotechnic powder.
They include devices like cakes and mines that exceed consumer limits.
UN Shipping Classification Matrix
| | |
| --- | --- |
| Class | (G) Pyrotechnics |
| 1.1 Mass Explosion Possible | Bulk salutes and large fireworks |
| 1.2 Projection Not Mass Explosion | Large fireworks and practice grenades |
| 1.3 Fire, Minor Blast | Display fireworks and smoke grenades |
| 1.4 Minor Explosion Hazard | Consumer fireworks and proximate pyro |
| Class | (S) Packed as not to hinder firefighters |
| 1.4 Minor Explosion Hazard | Proximate pyro and blasting caps |
Dangerous Goods Classifications
The following table is a list of the dangerous goods classifications as outlined by the UN Matrix.
| | |
| --- | --- |
| Class | Description |
| Shipping Class 1 | Explosives |
| Shipping Class 2 | Gases |
| Shipping Class 3 | Flammable Liquids |
| Shipping Class 4 | Flammable Solids |
| Shipping Class 5 | Oxidizing Substances & Organic Peroxides |
| Shipping Class 6 | Toxic and infectious Substances |
| Shipping Class 7 | Radioactive Material |
| Shipping Class 8 | Corrosives |
| Shipping Class 9 | Misc. Dangerous Goods |
Examples and Categories
The following examples give a name, category class, and description of various types of fireworks. These are the most common fireworks seen in the U.S. today. The following examples include both consumer and display-grade fireworks. The list does not include all available types of fireworks but serves more as a brief example list.
Sparklers (CAT – 1.4G): These are small metal sticks held in hand and produce a steady stream of sparks. Some modern variants come in the form of a paper tube and, when lit, can emit various colors.
Fountain (CAT – 1.4G): Like sparklers, these fireworks produce an excellent visual of colors and other effects such as whistles, pops, and bangs.
Wheels (CAT – 1.4G): This firework rotates clockwise as it shoots sparks in all directions and has audio cues like whistles and bangs.
Roman Candle (CAT – 1.4G): Traditionally, roman candles are handheld mortars. While pointing it away from the person holding it, individual projectiles fire into the air.
Rocket (CAT – 1.4G): The most frequently used firework, known for firing into the air and exploding. These projectiles will produce loud bangs or a combination of pops, whistles, and even a plume of colors.
Cake (CAT – 1.1, 1.2, 1.3, and 1.4G): Cakes vary in their types; they consist of various roman candles, rockets, fountains, or a mixture of all.
Mine (CAT – 1.1, 1.2, 1.3, and 1.4G): Mines are the largest of all fireworks, typically seen at sporting events, amusement parks, and holiday celebrations. These are mortars fired into the air; once they detonate, they produce colors, flashes, and bangs.
Barrage (CAT – 1.1, 1.2, 1.3, and 1.4G): These are a bundle of cakes, set to fire mortars, mines, roman candles, or a mix of them.
DOT and ATF Regulations
The PHMSA under the DOT has a strict set of regulations for transporting fireworks. All explosives must comply with 49 CFR Hazardous Materials Regulations (HMR). No ATF license or permit is required to accept or transport any class 1.4G "consumer" firework.
Display fireworks are subject to federal explosives laws and regulations. These fireworks may be lawfully received or transported only by a person holding a valid license or permit to transport. A new IT system on the PHMSA – DOT site helps to facilitate online applications.
Also, individual states in the U.S. may have unique laws regarding fireworks. Observance of these particular laws is imperative when owning, transporting, and selling fireworks. You can view the State Law Directory on the American Pyrotechnics Association (APA) site.
Preparation and Labeling Requirements for Shipping
To ship any explosive hazmat commodity properly, you will need to obtain a DOT application consisting of safety protocols and documentation. Also, labels are required to accompany each container to familiarize anyone handling the cargo with their contents and hazardous nature. A safety data sheet (SDS) is also required to accompany that shipment.
DOT Application
A DOT application must have a chemical composition and diagram accompanying the application. The approval process consists of a thermal stability test. The test is required and must be performed before submitting the application. It is imperative that fireworks will not randomly ignite under hot conditions in a warehouse, shipping container, or truck.
The thermal stability test usually takes around 48 hours to complete. Applicants exporting to the U.S. will require an agent to facilitate the application. The application is under 49 CFR section 107.705 (a)(5) and 105.40. Fireworks not approved by the DOT are forbidden for transportation.
Labels
Fireworks shipped in the U.S. must be approved and labeled according to the rules and regulations of the DOT. Under the DOT, all types of fireworks and the various chemicals used to produce them are classified as hazardous materials. An SDS must accompany all fireworks shipped when storing, transporting, or receiving hazardous goods.
Shipping Documentation:
UN identification number
Shipper's name and address
Hazard identifier
Packing group
Class 1 materials require that the quantity reflect the explosive net mass
EX number
The number and type of packages
Emergency contact information (DOT HM – 206F)
EX Number
Each firework type is assigned a ten-digit "EX" number as part of the approval process. The EX number is representative of an explosive that has been tested and classified by the DOT. This number must accompany the fireworks either on the container or in the paperwork with the container.
Looking for a solution to move truckload freight? R+L Global Logistics handles truckload shipping. Let us know when and we'll handle the rest.
How Much Does it Cost to Ship Fireworks?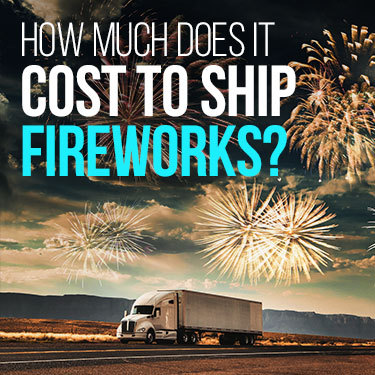 Due to the nature of shipping hazmat materials, additional fees may apply. A per-mile equation factors truckload rates. You must first figure out the miles between your starting and ending destinations. After figuring that out, divide the rate by the number of miles.
As an example, let's say the mileage between your pickup and drop-off points is 800 miles. If you have a freight rate of $4,000, divide that rate by the mileage of 800 miles. In this example, your rate would be $5.00 per mile.
| | | |
| --- | --- | --- |
| Rate | Divided by mileage | Rate per mile |
| $4,000 | 800 miles | $5.00 per mile |
Here are some example situations to consider when thinking about possible costs. Each situation will have an impact on possible cost scenarios.
Shipping via drayage
Shipping from one warehouse to another
Shipping from one distributor to another
There are several service options to consider when hazmat shipping:
The cost to ship fireworks largely depends on where and how you are shipping. Costs are associated with applications, fees, shipping containers, and freight through truckload, rail, or vessel. Our friendly and knowledgeable experts can offer you a quote today on the costs for your shipping needs.
International Shipping
The costs of shipping fireworks internationally have skyrocketed since COVID-19 has affected the world's economies. The pandemic has caused a surge in freight container costs for shipments coming out of China.
A 40-foot shipping container from China has increased from around $9,000 to nearly $18,000. With shipping time estimates doubling from 30 to 60 days. Unloading times have increased due to COVID-19 conditions affecting the ports.
The National Fireworks Association (NFA) has recognized a major logistical problem due to the dependence on China. Currently, China provides over 90% of all fireworks imported into the United States. Current conditions at U.S. ports have created bottlenecks and delays to shipping cargo.
Looking for a solution to move truckload freight? R+L Global Logistics handles truckload shipping. Let us know when and we'll handle the rest.
Shipping Fireworks with R+L Global Logistics
Having a  carrier you trust in your corner to service all of your shipping needs is essential for any business. You might have an international shipment that needs to be serviced from a U.S. port of entry. Possibly, a load that needs to be transported from one location to another. Our drayage and hazmat solutions can get the job done anytime or anywhere.
Drayage
Need to move a container of fireworks out of the port? We can take care of this for you. Our experienced team of drayage experts knows what it takes to get the job done. From scheduling a pickup time at the port to finding the right truck and more, we can manage the entire process for you. Request a drayage quote today to ensure your fireworks aren't held up at the port.
Hazmat Truckload
Do you have hazardous cargo that requires best in industry freight shipping? USA Truckload gets your sensitive goods from one location to another safely and securely. Our service provides you with shipment tracking, on time pickup and delivery, best-in-class safety, and more. Our mission is to take care of your freight needs one truckload at a time. Request a hazmat truckload quote today so that we can get your goods on the road without delays or safety concerns.