Smoke bombs may look like they contain some serious chemicals, but you can easily make one with ingredients you have lying around the house. You can whip up a smoke bomb with some sugar, a cold pack (the kind that comes in a first aid kit), and some tin foil. Ready to get started? See Step 1 to learn how to make an amazing smoke bomb in no time at all.
Making a Cooked Sugar Smoke Bomb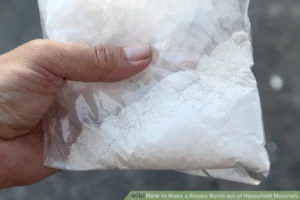 1
Get your materials together. A basic, easy smoke bomb that produces thick grey smoke with a purple flame can be made using just two ingredients: white granulated sugar and potassium nitrate, the ingredient found in cold packs.[1] Mixing these two simply components together creates a slow-burning, long-lasting bomb.
If you don't have granulated sugar, you can use powdered sugar, but the process of building the smoke bomb will be a little different.
If you don't have a cold pack, look for another source of potassium nitrate (also known as saltpeter). It's often sold in the fertilizer section of hardware and garden stores. You can also buy saltpeter online or make it yourself if you're feeling ambitious.
You also need a medium-sized pot, aluminum foil, a smoke bomb mold, and waxed string (optional).
2
Make a mold for your smoke bomb. You can line any sort of container with the aluminum foil to make it into a smoke bomb.[2] The shape of the smoke bomb will affect the way it burns. If you want, make more than one smoke bomb so you can compare different shapes and see which one burns the best. Here are a few mold ideas:
Cut the top off a paper milk carton and use the bottom half as a mold if you'd like a square smoke bomb. Line it with aluminum foil.
Line a bowl with aluminum foil. Any type of bowl works, whether it's deep or shallow.
Make tiny smoke bombs by lining votive candle holders with aluminum foil.
Make a tube-shaped bomb by lining the inside of a toilet paper roll with aluminum foil, making sure one end is completely covered.
Make a funnel-shaped smoke bomb by lining a funnel with foil.
Find an interestingly-shaped vase to make an artistic-looking smoke bomb.
3
Measure out your sugar and potassium nitrate. When it comes to making a great smoke bomb (one that you can easily light and that will burn for a nice long time), the most important thing to get right is the ratio of your ingredients. You need 3 parts potassium nitrate and 2 parts sugar.[3] Measure out 1 1/2 cups of potassium nitrate and 1 cup sugar for a decent-sized smoke bomb.
Adding too much sugar will create a bomb that is difficult to ignite and burns quite slowly.
Adding too much potassium nitrate will create a bomb that lights quickly and burns up fast.
4
Place the ingredients in the pot and turn on the heat. You're going to melt the two ingredients together so that the sugar cooks and caramelizes with the potassium nitrate. Cook the ingredients over low heat. It is essential that you melt them slowly for the process to work correctly.
As you cook the ingredients, use a wooden spoon to stir them. You'll start to see the sugar melting a bit. If it starts smoking or smelling funny, reduce the heat immediately.
Continue cooking the mixture until the sugar is completely melted, stirring gently.
Stop stirring when the sugar is melted. Allow it to keep cooking until the sugar caramelizes and turns golden brown. When this happens, remove it from heat.
5
Pour the mixture into your mold. Be very careful, since melted sugar is extremely hot. Fill up your mold almost to the top. If you want your bomb to have a wick, let the mixture set for a minute and then place a length of waxed string in the center, so that it stands up straight. Let the smoke bomb harden and completely cool in the mold.
6
Unmold the smoke bomb. After a few hours, once the bomb is completely hard, it's time to take it out of the mold. Turn it upside down so that the bomb slips out of the mold in the aluminum foil. Remove the foil to reveal the molded smoke bomb.
7
Light the smoke bomb. Take it to a place where there's nothing around that can catch on fire. Your backyard or another outside area is much preferable to any indoor space. Set it on the ground and use a match or lighter to light the smoke bomb. If you used a wick, you can light that and watch it burn down. Otherwise, just light the bomb directly. It should start smoking right away!
If your bomb won't light, chances are it's because the ration of potassium nitrate to sugar was a little off. Too much sugar will make it tough to light. Try again with exact measurements.
If your bomb burns away in a flash, it's probably because you had too much potassium nitrate in the mixture. Try again with more sugar.
1
Gather your materials. The same basic components are used to make a dry sugar smoke bomb, but they're processed a bit differently. You will need the following:
Powdered sugar
Potassium nitrate (saltpeter)
A coffee or spice grinder, or mortar and pestle
A container with hold in the top
A piece of waxed string
2
Decide what container to use for your smoke bomb. Making a smoke bomb using powder requires using a sturdy container that will stand upright. The powder will be poured directly into the container. Here are a few ideas:
Soft drink can
Toilet paper tube (covered on one end)
Chip container tube
Ping pong ball[4]
Blown-out egg (this is tricky, but quite impressive)
3
Grind the potassium nitrate. In order to make sure your measurements are as exact as possible, it's necessary to grind the potassium nitrate before you mix it with the powdered sugar. In 1/2 cup increments, grind the potassium nitrate in a mortar and pestle or coffee grinder (one that you don't use for coffee anymore). Keep going until you've acquired 1 1/2 cups of powdered saltpeter.
4
Mix the powders.
 Mix 1 1/2 cups of powdered saltpeter and 1 cup of sugar. To make sure they are completely mixed, you can put them together in the coffee grinder and grind them together, or place them in a container with a lid and shake until they're completely blended.
[5]
5
Pour the mixture into your container. Carefully fill your container with the mixture. The more you use, the longer your smoke bomb will smoke. Stick the fuse in the top of the powder when the container is full.
6
Light the smoke bomb. Light your fuse and watch it burn down to the powder. The powder will begin to smoke when the flame touches its surface.